This article is about the show's protagonist who used the name Emily Thorne. You may be looking for the real Emily, who in turn used to go by the name Amanda Clarke. If so, go here.
"
I know that all of this came at a price.
"
Amanda Porter née Clarke (formerly Emily Grayson and as an alias Emily Thorne) is the main protagonist of Revenge. Amanda is the daughter of the Clarke family, having lived in the Hamptons in 1992. Because her father was framed for a crime he didn't commit, Amanda embarked on a 4 year journey to bring down The Graysons, Americon Initiative and also any other associates within their crimes. She successfully cleared David Clarke's name at the end of season 3, which led to the destruction of the Graysons, however, Amanda has not heard the last of Victoria Grayson.
Biography
Early Life
In this section, "Emily Thorne" will be referred to as "Amanda Clarke", her real name.
Childhood
Amanda Clarke was born in the summer of 1984 to David Clarke and Kara Wallace.
For most of her remembered childhood, she was led to believe her mother had died in 1989 when she was 5 years old and afterwards was raised by her father. It was later revealed that Kara had tried to drown Amanda in the ocean, prompting David to finally send Kara away and into the Angel of Mercy Hospital.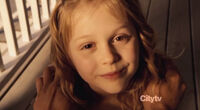 One summer her father decided to buy a beach house in the Hamptons for their summer vacations. The Hamptons is where their life began changing. There, David Clarke met his boss, Conrad Grayson's, wife, Victoria Grayson, who Amanda had more than once seen come and go from their house as her father's secret lover. She also became close with Bill Harmon, a friend of her father.
One fateful night, Amanda was about to play with her dog, Sammy, when FBI agents came busting into their house and arrested her father for money laundering for the terrorist organization Americon Initiative. She sees one last glimpse of the Grayson couple who framed him and had him arrested before she was taken away from her father. She was then placed in institutional care by the order of her psychiatrist, Michelle Banks, who had been bribed by Victoria to make sure Amanda never saw her father again.
She later went into foster care, where she met Eli James, Nathan Anderson and Christina Miller. Meredith Hayward was their very foster mother. Amanda and Eli became close foster siblings, protecting and sticking with each other. During her time in foster care, Amanda developed the habit of playing with matches. At one point, Amanda was chosen by a family for adoption. Not wanting to be separated from her, Eli burned their house down with one of Amanda's matches, blaming her for starting the fire, Amanda was sent to juvenile detention for five years.
Juvie Days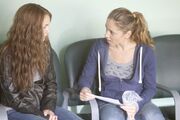 By age thirteen she was in Allenwood, a maximum security juvenile correctional facility run by Warden Sharon Stiles. Here, she meets Emily Thorne, her cellmate. At first, the two are very hostile toward each other, but upon Warden Stiles' advice, Amanda decides to befriend Emily into confiding in and trusting her.
Before leaving, Amanda gave Emily a necklace, promising she'd be back for her. Emily gave Amanda a hug, and said "I love you", showing she truly loved her and saw her more like a sister.
While in Allenwood, Warden Stiles looked after and taught Amanda. Warden Stiles also gives her a note with Satoshi Takeda's number, saying that although she is giving her this information, she hopes she does not go down that path.
Path to Revenge
Upon being released on her eighteenth birthday, Nolan Ross, a friend of her father's, met Amanda and tried to let her see the truth regarding her father's innocence. He gave her the infinity box her father left for her. At first, Amanda was insistent on not believing and used the money she got from her inherited partial ownership of Nolan's company, NolCorp, for her own personal, useless gains. Eventually, Amanda read all of the letters her father had written her that he'd left in the infinity box. She went back to the Hamptons to stay at their old summer home that was empty and under Conrad Grayson's ownership. There, she began reading her father's journals and began realizing the truth. After waitressing for a 2002 New Year's Eve party of the Graysons at their mansion, she became more aware of the evils of the family and their involvement in the framing of her father when she finds the dead body of Roger Halsted, a friend of her father's that she approached at the party who planned to aid her. At that point, all the hurt and anger built up in her came out and awakened the desire for revenge against those who betrayed her father.
Nevertheless, she knew she could not get close enough to her goals as "Amanda Clarke". Her relationship with Emily later proved very useful when Amanda came back for her and offered her  money along with a change of identity. They exchanged names and lives: Emily became the new "Amanda Clarke", and Amanda became "Emily Thorne" ("Suspicion"). Under the guidance of her sensei, Satoshi Takeda (who himself had a secret grudge against the Graysons), she learned the ways of revenge on an island in Japan.
Rise for Reputation
Work in progress. Has to do with her school activities and charity work before going to the Hamptons. Includes her meeting Ashley.
One night around Thanksgiving of 2006, on a mission to bring down Dmitri Lvovsky, Emily met Aiden Mathis, who ended up killing Dmitri after he taunted him about his vanished sister. Realizing that he needed revenge just as much as she does, she convinced Takeda to take him in, threatening to leave if he didn't accept him. During the mission, Emily had a brief encounter with Ashley Davenport, who at the time had just moved to New York and was about to resort to prostitution to pay the bills. Neither apparently saw each other's faces clearly enough to get a lasting impression. Speaking to her through a door, Emily gave her a bundle of dollar bills in exchange for a information about when Dmitri was arriving.
While in training together Emily and Aiden developed a relationship that was interrupted when Aiden left to pursue a lead to his sister.
Revenge School
There still is a lot about Emily's years spent training under Takeda that remains unknown, but it is revealed during "Trust" that she created a fake history on top of her assumed identity of "Emily Thorne" which stated that she was the daughter of a wealthy American expatriot who left behind a sizable inheritance which she used to travel the world and get academic degrees.
In the novel named, "Schooled in Revenge", It Is revealed they were several other students training on the Island. So far, it is said Emily bond with a Girl named Ava Winters, described as a 'beautiful young heiress', who has just joined her training school helping her focus on the movation of her revenge.
Season 1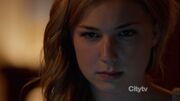 In "Pilot", Emily bought her father's old house in the Hamptons, then she met with the former owner Lydia Davis. She met with Ashley in the South Fork Inn but Ashley didn't come as she had a lot of work. But she saw Lydia and Conrad coming. So she disguised herself as a waitress and poisoned Conrad. Then when Conrad had an attack she appeared and asked Lydia if she could help. At the party, Ashley introduced Victoria to her, and mentioned in front of her and Lydia that she met her at the South Fork Inn and asked for her husband. She dropped her glass to Daniel to introduce herself. At night Nolan came telling her that he could help but she refused.
In "Trust", Emily He made him think that Nolan would ally with AllCom so he put all his money in there but Nolan was teaming with it's competence so he lost all his money. She discovered that Nolan bought his house, which made her angry until he told her that he did it to make sure she would get it as Victoria also wanted it. She had a perfect first date with Daniel that ended with a surprise party in her house.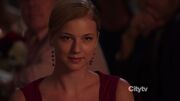 In "Betrayal", Emily found Tom in Grayson Manor and saw an opportunity, so she asked Nolan for help. She began sending him videos of him in her lover's apartment. Finally when he was about to begin his speech, his pregnant lover appeared and he retired. Then Emily send the videos to the press.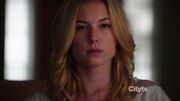 In "Duplicity", Emily acceded to Michelle's tapes of her patients and during the Mothers and Daughters charity tea for mental health she exposed them including hers. After Victoria threatened Michelle, Emily kidnapped her to incriminate Victoria. She planned a dinner for Daniel but for Tyler's fault Daniel didn't came, and when Jack appeared she invited him.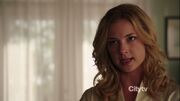 In "Guilt", Emily received the visit from Lydia, who was asking for her old life, including her home. Emily sent her a box of her things and objects related of Michelle and Tom incriminating her. She told Emily that Lydia had a book from Dr. Banks and that her tape was the only one that didn't appeared, suggesting that she had destroyed them. Then Nolan told her that Lydia found a photo of her in the 2002 Grayson New Year's Bash and she sent him to fix it. She finally went all the way with Daniel.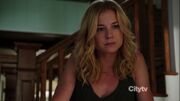 In "Intrigue", Emily discovered that Lydia was in coma after Frank threw her from her attic. She told Nolan to send the video of it to the Graysons to take him down. She went to a double date with Tyler and Ashley where she left Tyler as a liar. Jack told her that he loved her but she refused as she was dating with Daniel. Finally Nolan told her that he was leaving after Frank scared him.
Unbeknownst to her, one particular guest at the party recognized her: Nolan Ross. Nolan immediately gets on Emily's bad side when he saunters into her home calling her Amanda. He knows her because her dad invested in him before he became super rich. Emily owns 49 percent of Nolan's company. Nolan gives her a special memory box, Infinity Box that provides the truth behind the evil things others have said her father did.
From this point on, Emily becomes intent on getting closer to the Grayson family through their son, Daniel. She begins leading him on with the possibility of a relationship which soon makes Victoria wary. She has Emily investigated and, fortunately for her, Emily had thought all of these through and has everything covered.
Emily manipulated virtually everyone in Hampton in her quest for revenge and only Nolan and the real Emily Thorne (known in the Hamptons as Amanda Clarke) currently knows her true identity. She pretended to befriend the Graysons but has not directly attempted to take revenge on the family so far, biding her time until she found the evidence she needed to clear her fathers name. However she has taken revenge on many of the Grayson's allies, including: Bill Harmon, Tom Kingsly, Michelle Banks and Mason Treadwell.
Emily has never actually killed anyone, although she did show particular interest in the man who killed her father, Gordon Murphy and he is the only character that she actually tried to kill. However she controlled herself at the last moment due to Nolan and the memories of her father.
Season 2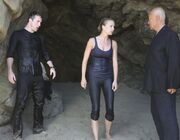 After Emily found out that her mother, Kara was alive all her energy went to finding out where she is, who and what kept her away from her daughter. Her first move was to go back to Japan and train under Takeda with the goal to unlock her memories about her mom. But this, she kept it for herself, Takeda didn't know that was the purpose of Emily's return and once he found it out he clearly said to Emily that if he knew that was her intention he wouldn't welcomed her back to the training. But Emily made it clear by stating that dead or alive, she is going to find out what happened to her mother and when she does it, god help the people who kept them apart.
To find out more about her mother she has to go back to the Hamptons, she needs to get close to the Graysons again to find out more info. This time to do so Emily gets more close to Charlotte, her half-sister, who has been living sober for the past 60 days at an addiction recovery center. Once back in the Hamptons, she also has to run back into both Daniel, whom she broke up with and Jack, now with pregnant Amanda. She has to deal with Amanda, who is getting way too comfortable in the Hamptons, so Emily pays her a visit but Amanda made it clear that she isn't going anywhere, during that encounter it was also decided that Emily was to be the godmother of Amanda's and Jack's child. Emily needs to stay close to these two as well, that's why she tells Jack that Amanda asked her to be the baby's godmother.
(...)
Emily decided to confront both Gordon Murphy (the white-haired man) and Victoria. When she asked Gordon Murphy about her mom, he told her that she was alive, that he didn't kill her but once that was said he tried to kill Emily. She is saved by Aiden, who shoots Murphy in the back.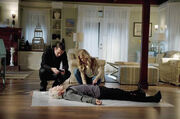 (...)
Through Amanda, Emily confronted Victoria too but wasn't able to hear what Vicotria said about Kara to Amanda. It is only at the hospital that Emily unlocked her memories of her mother, by seeing her beside Amanda's hospital bed. Emily remembered that Kara tried to kill her when she was only 5 years old, by drowning her in the ocean when they were swimming together.
(...)
In "Retribution", Jack finds letters sent between Emily and Amanda during their juvie days and, angered that Emily didn't reveal their earlier connection, breaks off with her. Emily then delivers the eulogy at Amanda's funeral. Meanwhile, Aiden breaks into Jack's room and takes back the laptop with video footage proving the Graysons' guilt in Flight 197 and the framing of David Clarke. When he returns it to Emily, she throws it in the ocean, remarking that her revenge plan for the Graysons was never going to involve jail time.
(...)
Throughout Masquerade, Emily and Aiden begin a series of ploys to get Victoria to start looking for her son again. First they send her a responded invitation to the Graysons' Halloween party in an envelope postmarked 1973, the year her son was born. Because Conrad's opponent in the gubernatorial race, Mark Stoddard, got his first public office job that same year, he incorrectly assumes it to be some kind of poor prank by him. Victoria later receives a bunch of black roses, one of which has had its bud cut off, and a note saying he (her son) will wear it at the party. Upon seeing a masked man wearing the rosebud at the party, Victoria tries to follow him but loses him in the crowd and then faints, apparently from shock (the man is implied to be an actor hired by Emily). In the end of the episode, Emily apparently tails Victoria to the church where she left her first-born son decades earlier. After Victoria leaves, Emily approaches the nun she spoke to and asks for help, claiming to be pregnant.
(...)
In the end of "Truth, Part 2", Emily intervenes as Jack is about to shoot and kill Conrad and reveals herself to be Amanda Clarke, ending the season with a cliffhanger.
Season 3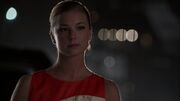 In "Fear", Emily went to jail to pick up Nolan "returning" him the favor. She went to The Stowaway to see Jack but she found Ashley who blackmailed her by revealing she knew her true feelings about Jack. She decided that it was time to take her down. At her Memorial Day Party 2013 she introduced Ashley to Dr. Jorge Valez and knowingly pointed it out the to Graysons and then after Nolan parachuted into the party as a way of smuggling in the poison for Emily, Conrad fell during his Gubernatorial Portrait unveiling and it's revealed that Emily poisoned him. Conrad is rushed to Suffolk Memorial Hospital and diagnosed with Huntingtons disease, the diagnosis is mysteriously revealed to the press and Emily points out that Ashley was quiet cozy with Conrad's doctor Jorge Valez and maybe she sold the story to the press. Later Emily and Victoria black mail Ashley into leaving the Hamptons for good and Jack sets Emily a deadline. Nolan and Emily celebrate Ashley's takedown on the beach and Emily reveals that August 8th is to be her wedding day, the day the Grayson's go down once and for all.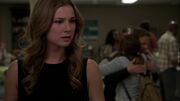 In "Sin", Emily gave the Infinity Box to Nolan to keep it safe. She showed him her new target, Father Paul Whitley, the one who convinced everybody to stand against David Clarke. She discovered that he had change but continued wanting to take him down. Just when it was too late she regret it and tried to stop tfit but she couldn't. She told Nolan that she will try to fix it because Father Paul is the only who could make Conrad confess everything. She continued poisoning Conrad, and starts losing Charlotte for revealing Victoria's "affair" last episode.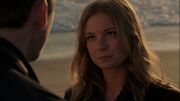 In "Confession", Emily offered her forgiveness to Father Paul but he had to make Conrad confess. Daniel began to ask her questions about Nolan's house and Aiden, Emily begin to get closer to Conrad and began supporting him to get him ready for Father Paul. At the end of Nolan Ross' Housewarming Bash she revealed to everybody that the Graysons were in bankrupt. When she was on the beach Aiden appeared and we discover that he has been working for Emily all this time. When she was returning home she found Conrad's car set on fire, Father Paul hurt badly and Conrad bleeding and confused.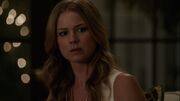 In "Mercy", Emily saw her plan de-railed when Father Paul died. She saw Daniel bribing the police after he gave him Emily's statement, she retaliated by telling Margaux's assistant about Daniel's DUI for his biography. She told Jack that Conrad killed Father Paul and that he never planned to confess, then they investigated the car and Jack discovered that somebody tamped the breaks of the car. Daniel and Emily's relationships became tense when Daniel discovered what she had done.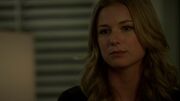 In "Control", Emily sneaked into Conrad's garage to investigate whose trying to kill Conrad but Aiden told her that he would do it. Then Victoria told her that Conrad thought that Jack was behind everything and she went to advise him, as Victoria planned. When she arrived late at the Launching of the Voulez Daniel got angry and to get him back she had to show him a photo of Amanda's parents that she kept in The Stowaway.
In "Dissolution", she saw her plan collapse in front of her when Conrad announced that he was selling the Manor. So she made the real estate agent believe that the manor was slipping into the sea and changed the manor's file so she canceled the sale. Aiden told her that Victoria was planning to leave so she told Aiden to reveal to Victoria where her fortune is. She discovered that Jack allied with Conrad to kick out Patrick and she revealed that on August 8th she was planning to frame Victoria for her death and leave for good with Aiden.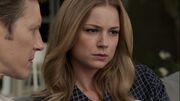 In "Resurgence", Emily found herself in problems when Conrad's PR tried to make it look like Emily and Victoria are getting along, and if she succeeds she could not frame her for her death. So she talked with Nolan and he decided to take her down. So for the plan she told Bizzy that she had been married before and Bizzy told Victoria. Then Nolan took down Bizzy and revealed to Emily that Daniel and Sara almost kissed,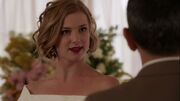 In "Secrecy", Emily has a new enemy, Sara Munello but she doesn't take her down, she broke down in front of her instead. And it worked as Sara felt guilty for what she was doing. But it didn't end here because Victoria had a surprise for Emily at her bridal shower she had invited Rohan, her first husband. But Emily had anticipated it planned and she and Rohan humiliated Victoria explaining that Emily married him to avoid his deportation. With this they demonstrated to everybody how obsessive Victoria was about destroying the wedding, here we have another motive for framing Victoria. Then after knowing that Daniel was cheating on her Emily told him that she was pregnant.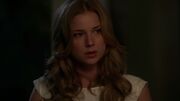 In "Surrender", Emily is making the final touches on her plan; she has left gun residue on one of Victoria's bracelets. Now she is planning to reveal to everybody that she is pregnant. She was trying to mentioned it when she was with Victoria but then they discovered Lydia still alive. Lydia pushed Emily and when Daniel helped her up he revealed to Victoria that she was pregnant. Aiden proposed to her and she accepted, but everything is not as perfect as it seems as Victoria won't attend to the wedding.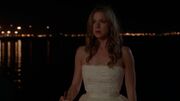 In "Exodus", Emily asked Conrad to convince Victoria to attend to the wedding. She said goodbye to Jack but when she told him that she was with Amanda when she died he got angry. Lydia blackmailed her in order to get back her house and she accepted, then she made the last touches to her plan. But more problems arose as Conrad invited Lydia. On the yacht Emily spilled her drink on Victoria so she would leave and cleaned up, meanwhile Emily left the cabin and went onto the deck of the yacht. But then Victoria showed up with the photo from the 2002 Grayson New Year's Bash and she confessed that she lied to Daniel about the pregnancy. Aiden took her away but then Daniel appeared, he heard everything that Emily had said and picked up the gun, thinking she was going to shoot him. Emily tried to apologize but Daniel shot her twice in the abdomen and watched helplessly as she fell into the water and floated away.
In "Homecoming", Emily stowed away on a ship until she was found by Aiden. Emily lost consciousness and woke up in the hospital with amnesia. Aiden was determined to get Emily out of the hospital believing her to be in danger, but Emily freaked when she saw him. Later, she told Charlotte her father's name was David Clarke. Jack visited Emily and gave her the locket Amanda had died getting. Emily's memories then came back and she told Jack that Daniel was the one who shot her.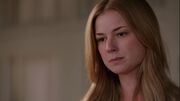 In "Endurance", Emily decided that she had lost and was trying to leave the Hamptons. But Victoria told her that because of the location of the bullets the doctors had to make a sacrifice to save her life, and she wouldn't be able to conceive. After that Emily decided to continue her revenge. Emily discovered that her nurse was Takeda's daughter and she told her that Victoria was after a box at Nolan's house, so Emily notified Nolan with a walkie talkie and he changed the infinity box with another. Emily made an announcement to the press saying that Lydia was the shooter to ensure her place at Grayson Manor. Then she broke things off with Aiden after telling him she couldn't have children, Victoria discovers the infinity box but this one reveals Emily's plan to obtain "status" not revenge.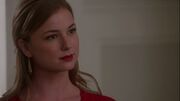 In "Hatred", Emily discovered Sara and Daniel in bed. So she began a war against them. First she told the press that Daniel was with Sara. After Daniel fired all the staff she called Sara's mother to finish their relationship and it worked. Meanwhile Nolan appeared and told her that Aiden was with Niko. She went to the pool to swim but she had a blackout and woke up in Nolan's house. She had another blackout after Daniel threw her onto her bed, but this time she woke up in Conrad's suite, after apparently sleeping together.
In "Payback", Emily was worried by her blackouts so she went to see the doctor. She discovered that during her last blackout she called Stevie to help her with her divorce, so she had to convince her that she was still in love with Daniel. After another blackout she woke up in Charlotte's Birthday Party. When she came home she discovered that Niko had kidnapped Aiden so she went to rescue him. She had to fight Niko but he rescued Aiden. Next morning, talking with Nolan she realised that she was experiencing the same that her mother when she tried to drown Emily.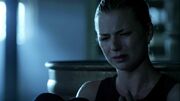 In "Struggle", Emily woke up after another blackout, this time she destroyed the double infinity from her porch. Scared she decided to kill the Graysons. She went to the South Fork Inn to kill Conrad but Aiden took her away. He used Takeda's methods to stop her blackouts and she remembered that they were caused because of his father as she told him to leave Victoria but he didn't listened to her. Now without blackouts and remembering what she had done during the blackouts, she kissed Aiden. She read again one of her father's diary and discovered that Stevie visited him in prison.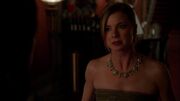 In "Disgrace", Emily met with Stevie to averiguate her plan with her father but Jack told her to leave her alone. Then at Grayson Manor Daniel told her that she wanted divorce, and she told them that she would say that they forced into incriminating Lydia and that Daniel shot her. Then Stevie came to ask her who she really was, and Emily told her that she was trying to avenge Amanda's death. Nolan brought her evidence from Stevie that her firm was keeping. On the opera opening night she posted her diagnosis online, where it said that she faked her pregnancy, and Victoria acted like she knew nothing to kick her out. Then she let Jack help her and she showed a letter that Pascal wrote to Conrad talking about David Clarke.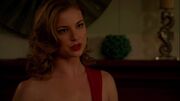 In "Addiction", Emily decided to go after Pascal, as she discovered his letter. But in the letter there was a name that she couldn't figure out, TWM. She went to talk with him but she refused as he didn't want to be involved in a scandal. She invited him to the Casino Night knowing that he wouldn't be able to resist it. She went to the Bahamas to find Aiden to ask him about TWM but he kicked her out. In the party Daniel appeared and she gave him back his credit card. She went to talk to Pascal but Victoria arrived first. Pascal proposed the two to play poker, Victoria let Emily win to knew what was she up to and Emily went to talk with Pascal privatelly. She told him that she knew a lot of Grayson's secrets and discovered that she was recording the meeting for Victoria, so she left. Aiden returned and told her that TWM was his father; Trevor Warren Mathis.
In "Blood", Emily and Aiden go to England to visit Aiden's mother Harriet so that he can finally be honest with her. Emily receives an unexpected call from Mason Treadwell, who tells Emily that Victoria came to him to seek information. Emily promises Mason she will free him. Mason receives cream from Japan which makes the bod mimic death, leading the prison to think he had died. Emily sets Mason up with a new identity and a new home.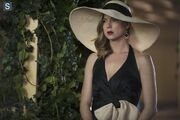 In "Allegiance", Emily knows that Pascal's allegiance is with Victoria. She doesn't fall for his attempt to buddy-up to her, but she does swipe his thumb print during their meeting at the racetrack. Emily sends it to Aiden, who uses it to gain access to Pascal's confidential files. She later overhears Victoria having a heated discussion with a man name Luke Gilliam. The topic of discussion is her father. It seems Luke was the one who was supposed to take a fall, not David Clarke. He's been holding onto evidence all these years. Emily and Jack put on a little show where she ends up defending her latest target's character. Gilliam is impressed. He also doesn't notice Ems swiping a vile he claims is the compound his company uses to extract natural gas from the ground. Gilliam asks Emily to join him at his award ceremony. As for the stolen vile, it's a mixture of saline and gelatin. Gilliam has been lying to everyone. That's why he needs to go down. What Emily doesn't know is that Victoria is the one who brought Gilliam to the Hamptons. It's all part of her plan.
In "Revolution", when Aiden informs Emily and Nolan Conrad has given him 24 hours to take care of Pascal or he's going to reveal him, Emily says, "Then lets take control of the situation." By this, she means kidnapping Pascal and pretending to be Agent Rebecca Stone from Homeland Security. "This is where you tell me everything," Emily explains. She claims to have been building a case against the Graysons for the last three years. "And you have the information I need to close my case." Pascal keeps calm, so Emily confiscates his phone. Nolan works his magic to access the content.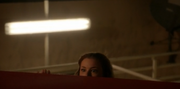 ts of the phone and the trio quickly realizes there is nothing on it implicating Pascal or the Graysons in Flight 197. Pascal was bluffing, but Emily notes Conrad doesn't know that. She goes back to questioning Pascal, who is far from cooperative until Emily mentions Margaux. Pascal agrees to wear a wire to the MyClone launch in order to trap Conrad. Later at the launch, Emily watches as Pascal and Conrad leave together. Pascal tries to get Conrad to admit his past sins, but instead, Conrad pushes Pascal into the blades of the chopper, which leads to a gory, bloody death. Emily witnesses it all and manages to miss Victoria only by a few seconds.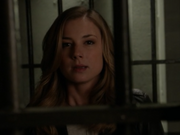 In "Impetus", Emily kidnaps Charlotte in order to bring Conrad and Victoria down once and for all. She sends MyClone images of Charlotte to Conrad demanding in a disguised voice he confess to framing an innocent man. Charlotte is shown videos to prove that Conrad and Victoria framed David Clarke. They had help with the cover-up that claimed even more lives including Declan and Amanda. Jack is concerned when he hears from Javier that Charlotte is missing. He tracks down Emily, Aiden and Nolan. Jack is shocked to see what they are doing to Charlotte. Aiden agrees that things are getting out of hand. Charlotte needs something to calm down. Emily agrees to get her a sedative. A detective stops her before she can return. Daniel is behind this. Emily knew that Jack planned on setting Charlotte free, so she had a camera planted on her jacket to see Conrad angrily confess his crimes and threaten Charlotte infront of the world to see, resulting in his downfall. Emily later visits Conrad in prison and reveals she had done it for David and Amanda, she then hints she is going after Victoria next.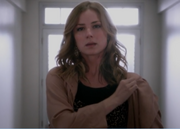 In "Execution", Emily goes to the cabin in the woods where Jack found David Clarke's ring to investigate. She gets into a violent fight with the imposter (who tried to get her DNA sample). Emily realizes that the man in the cabin was working for Victoria, who is onto her. Emily eventually realizes there one person who can link Victoria to her father's frame-up. She sends Aiden to visit Michelle Banks. Emily is overjoyed when a news report states that her father's conviction has been overturned. David Clarke is officially declared an innocent man. Her joy over this news is short-lived when she returns home to find Aiden's lifeless body sitting in front of the fireplace. Nolan tries to comfort his distraught friend by letting her know that he felt broken for most of his life, and that all changed when he met her. Emily knows Victoria is behind all this. That's why she tells the authorities that Aiden's death was a suicide. She wants Victoria all to herself. Emily confronts Michelle Banks about her role in what's happened. The fact that she's sorry is not enough. Later, Emily tries to convince Charlotte that she needs to move her father's body from its gravesite for safety's sake. Their meeting doesn't go well. Emily vows to take care of it herself. She is digging up the grave when Victoria steps out of the shadows. A venomous exchange of words takes place. Emily assures Victoria that she's not actually digging up her father's grave just before knocking her unconscious with a shovel. Later on Victoria awakens next to Emily, who assures her this is for her own good. After all, she's been obsessing about Amanda Clarke lately. Proof of this comes in the form of reports offered by her regular therapist, Dr. Michelle Banks. Victoria screams madly that the woman behind all this is the real Amanda Clarke as the doctor injects her with a sedative. Emily bids farewell to the former Queen of the Hamptons. She makes a satisfied exit as Victoria's frantic screams echo throughout the hospital halls.
Season 4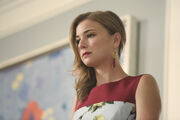 In "Renaissance", Memorial Day is approaching. Nolan's hopes that his best friend in revenge will use their upcoming party to announce that she is, in fact, Amanda Clarke, are quickly dashed. Emily assures that this will be nothing more than a party to open the summer season. No arrests. No blackmail. No takedowns whatsoever. Hopefully there will at least be some spinach dip in the place formerly known as Grayson Manor which is now Emily's new home. While driving Nolan's snazzy new car, Emily accidentally backs into a local woman's car. She invites the irate auto owner to her upcoming bash where she'll give her a check to cover the cost of the damage. Nolan is impressed to see Ems resolving conflict without the use of a red Sharpie. Back at the manor, they meet with Dennis and Jennifer, two folks behind an organization known as the South Hampton Yacht Club. Emily has helped with fundraising. These two owned a yacht that was involved in an accident with a small fishing boat where a man was killed. Emily notices what appears to be movement inside her old beach house. Memories of Aiden's death rush in once she enters the premises. Emily leaves without noticing the figure hiding in the shadows. It's David Clarke. On the day of her big Memorial Day party, Emily presents a generous check to the woman whose car she hit. The lady's name is Nancy, and she's had a rough year. She recently lost her fiancé. Emily calls upon Dennis to christen their new yacht. He's surprised when the name on the side of the vessel is revealed to be "Valerie." Jennifer knows that's the name of his mistress. She freaks out on Dennis saying she's through being his alibi. Jennifer claims that Dennis is responsible for killing Nancy's fiancé. Remember that concept of no takedowns at the party? Nolan realizes that was a lie. Emily had hoped to make things right for Nancy after she came across her story. However, her plan backfires. Nancy only feels more pain now. Nolan is furious at Emily, who tells him to get out of her house. Emily calls Nolan to explain why she did what she did regarding Nancy. A thirst for revenge has become a part of her. She's not sure what she would do without it. The phone call is cut short when the doorbell rings. Victoria is on the front step vowing revenge. Emily welcomes her back just before closing the door on her.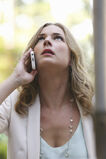 In "Disclosure", Emily rings up Clairmont hospital to find out how Victoria escaped. She then asks Nolan to track Victoria down so she could end it for good. Later on Emily tracks down Charlotte and notices she is about to commit suicide. Emily rushes to try to save Charlotte. She begs to let her explain. No use. Charlotte is too far gone. She steps over the ledge, but is tackled before she can jump by a police officer. Jack storms through the roof door. He reports that the jumper has been apprehended by his commanding officer, Ben, who doesn't believe Emily's presence there was a coincidence. Jack brings Charlotte to Emily's place. The truth finally comes out. Emily admits that she's the one who kidnapped her. She further tells her that she is her sister Amanda Clarke.  Emily discloses her past to Charlotte. She admits that she once tried to take her own life as well. Emily pulls out the Infinity Box. Their father's journals are inside. Emily hopes they will give her the strength to survive. Charlotte is angry that her half-sis chose revenge over her. She smashes the Infinity Box before rushing out. Later on Emily receives a call from Charlotte They meet at the Stowaway. Charlotte turns over a notebook with all that she wants to say and ask. As Emily reads, she's knocked unconscious from behind by Charlotte, who then sets the stowaway on fire.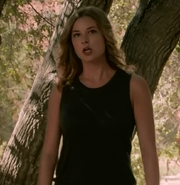 In "Ashes", Emily is rescued by Jack from the burning Stowaway. Emily makes no mention of Charlotte's involvement in the fire and makes up a cover story. Jack learns that Charlotte was, indeed, at the Stowaway when the fire started. She lied to an onlooker about nobody being inside. Emily confirms that Charlotte knocked her out and left her for dead. She'll deal with this turn of events in her own way. She's going to try to get through to Charlotte even though she has no real plan. Emily shows up at the cabin where Victoria and Charlotte are staying (unaware her father is there too). Victoria pulls a shotgun on her. Emily apologizes to Charlotte and taunts her archenemy to fire away. Victoria refuses to do so. That would be too easy. She owes her much more than a quick death. Emily heads back to her car where Jack's partner happens to be on patrol. He offers to get to know Emily better. That's probably not going to happen anytime soon. worried Nolan sets up surveillance cameras inside the manor. He sees a hooded figure entering Emily's bedroom as she sleeps. It's David. He stares down at his prey with his knife drawn. Nolan quickly draws his gun and shoots at David, who escapes. Emily looks down trying to find him.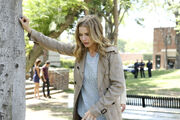 In "Meteor", Emily doesn't want to call the cops about the knife-wielding intruder who was inside her bedroom. She fears Charlotte might be involved. That doesn't stop Nolan from reporting the break-in. Jack wants to investigate to see if Victoria is involved. Emily can't stop him from doing his job. That means Jack will also arrest her if anything happens to Victoria. Emily's father David stages an arrest to later tell his over exaggerated story of events of where he had been. Jack wants to speak to Emily alone, but that's against protocol. Emily is brought in to view the suspects. She asks to get a closer look at Number 3. Emily steps closer to the one way mirror. She breaks down in tears. She tells Ben that it's not the man who broke into her home. Emily rushes out of the police station. She tells Nolan about David. She tells him that her father is alive. Emily rushes down to the press conference that's being held. Emily sees her father usher Victoria and Charlotte out to stand by his side. She's devastated. Nolan wonders what just happened. An utterly defeated Emily says, "She got to him first."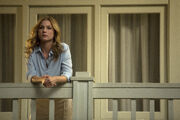 In "Repercussions", Emily sees footage David and Victoria visiting what's believed to be her grave. She takes her frustrations about Victoria getting to her dad first on a poor, defenseless punching bag. Later, she's in a crowd of onlookers when a speeding car tries to run down David, who is determined to find out what really happened to his daughter. Emily pleads with Charlotte to help her get close to her father. Emily later notices Margaux and confronts her over an attempt to get a David Clarke exclusive. She then receives a text from Charlotte. It's an invitation to her father's hotel room. She is greeted by Victoria, who taunts her to tell David who she is. Emily is later told by Nolan (who had a conversation with David earlier) that there is still a chance she could reconnect with him. Later on Emily apologizes to Margaux for how she acted. She wants to do something for David. It helps Margaux circumvent Victoria's media blackout of David. It involves having Daniel giving him the deed to his old beach house. Margaux gets an exclusive interview as part of this deal. Emily knows her father needs time to recover. She'll win him back honestly, with the truth. When he's ready, she'll let him know that she's still here. Emily hears music playing from her new neighbor's house. It's a song she used to dance to with her dad.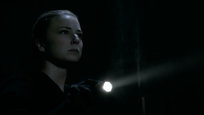 In "Damage", Emily notices her father on the beach, she looks on happily until she sees his wounds on his back. She then watches David's videotape of his confession about being imprisoned. She has a gut instinct he wasn't telling the whole story. Later on she is called by Charlotte, who is desperate for her help after she killed a man who kidnapped her. She shows her the newspaper clippings she found. Vince's car key matches the one used in the automobile that tried to run down David. Emily says the guy was a relative of one of the victims of flight 19/7. Emily helps Charlotte clean up her mess, and after a heated discussion, reveals that Victoria killed Aiden. Emily needs help investigating her father, but Nolan was too busy on live tv with David. Emily then searches through David's cell to investigate. Later on she turns up to Nolan's house and discovers Nolan had been attacked by David. She claims David was staging the whole story of being tortured by Conrad and is bent on getting the truth.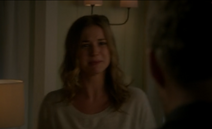 In "Ambush", Emily breaks into her old beach house to retrieve a knife that was placed in her old hiding spot. She wants Nolan to help her determine if it was used by David to murder Conrad. A mystery key is found next to the knife. In other news, Jack lets Emily know about the double infinity sign he saw in the ex-cop's garage. Later, Emily is met by none other than her father David Clarke at the door of her house. He was told by Jack that Emily was good friends to Amanda, and that she could give him information. The unusual conversation that ensues reveals how much father and daughter love each other. Emily almost tells him who she really is, but David continues to lie about having been locked away all those years. When David mentioned Victoria, Emily hinted that Amanda and her had a fight at the baby shower which resulted in Amanda's fall. Later, Nolan reveals that the key belongs to a safety deposit box. Emily is later caught by Daniel in an elevator as she goes to investigate the safety deposit box. He doesn't want to be hit by the fallout of her nuclear war with his mother. Emily agrees mainly because she only has a small window of time to break into the safety deposit box. That window is closing fast once the elevator gets stuck. Emily eventually manages to get out through the roof. She breaks into the safety deposit box which contains cash and a flash drive. Emily makes an anonymous 911 call to lead the police to the body of the man Charlotte killed. Jack leaves Emily a voicemail. They need to talk. As for Emily, she tears up when she sees that the flash drive she found is filled with pictures of Amanda. Emily storms in on Victoria and David. She orders Victoria out and slams down the photos she found. She screams at her father for not coming for her. David is thoroughly confused. Then he finally sees it. He finally realizes that the person standing before him is his daughter. Victoria is struck by lightning. Emily watches on as David tries to help her.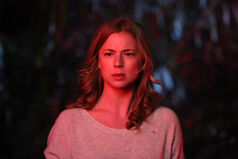 In "Contact", Emily refuses to help David in aiding Victoria, he calls an ambulance as she continues to watch on. He rides off in the ambulance without answering her questions about why he stayed away all those years. The two of them meet up at the hospital. Emily asks David who took the photos in his box but the two are interrupted by Victoria, who coded herself. Emily meets up with David again, He gets angry when she tells him she's the one who traced the knife back to the man that Charlotte killed, and that she also cleared his name. David yells that he never asked for her help. Emily flees leaving a crumbled up picture of the two of them behind. That night Emily has a chat with Daniel, who can't believe she's giving up on her father. Emily takes his as advice and heads back to the hospital, she notices a map and a photo of David inside a car. She rushes to rescue David and fend off two men who came for him and Victoria. When Emily meets David again, he tells her that a rival of Conrad's threatened to kill the girl he thought was his daughter if he didn't do his bidding. That's why he can't be her father. It's too dangerous. David wants to take care of this on his own. He loves her—infinity times infinity. Emily later tells Nolan that staying out of her father's business may be for the best. Of course, if that were true, she probably wouldn't be holding a mystery man prisoner in a back room.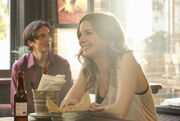 In "Intel", Emily gives a serious beatdown to the man she has hidden in her house. She wants to know who hired him to hurt David Clarke. The smack-fest is put on hold when Ben shows up at her front door. He wants to take her out on a date. Emily politely declines. Emily goes back to her torturing ways until she gets the name of her prisoner's partner. It's Pete Dunn. He's one of the men who was captured and charged in the attack on David Clarke. There will be no questioning of this thug though, as he's found hanging in a police interrogation room. Emily wonders if this was truly a suicide. Jack realizes she was there the night of the attack, not that anyone will ever be able to prove this. Emily changes her mind about meeting up with Ben. She asks about the Conrad investigation. Ben changes the subject by challenging her to a game of darts. They move on to pool, then some personal conversation which leads to a chat about Chief Alvarez. Ben quickly realizes they aren't on a date. He's just a means to an end. Emily apologizes to Ben for using him to get information on Alvarez. She admits that she thinks that someone killed the guy who attacked David Clarke. She thinks Alvarez may be involved.
In "Atonement", Emily believes that federal agent Kate Taylor is dirty. She may also be her only way to find Malcolm Black. David secretly approached Emily at Nolan's yacht club event. He warns her to not come running when she hears there's trouble. It's all part of a larger plan. Emily can't let him go after Malcolm Black alone. She knows that she can get to this dangerous man via a certain FBI agent. Kate figures things out. She knows that Emily is really Amanda Clarke. She claims Black is holding her mother in order to force her to do his bidding. Emily pats down Kate to find her unregistered gun. She returns the weapon after the two of them agree to work together. Kate lets Emily know that her father stole lots of money from Malcolm Black. He funneled it to charities all over the world. Kate claims that Malcolm believes David kept the loot. She wants Emily to wire her own money into a private account to draw him out. Then they can arrest him minute he withdraws the money. Emily doesn't buy it though. She calls Kate let know she still does not trust her, who draws her gun and admits that Malcolm Black is actually her father. Emily reveals that their entire conversation has been captured by her hidden security cameras. She also slipped the bullet cartridge out of Kate's gun. A violent battle of hand-to-hand combat ensues. Jack realizes that Emily is in dange when Nolan computer econise Kate fingerprints as Blacks daughter. He races to her house as Emily gets the upper hand on Kate. It does not' last. Kate and Emily plunge off the second floor balcony. Emily is hurt. She struggles to move. Kate gathers her gun. She searches for the clip. She finds it just as Daniel arrives. He ask is she ok, Emily tells him to leave but he is quickly shot by Kate. Kate is then killed by Jack who arrived at the scene just in time. Emily comforts Daniel as he dies in her arms.
In "Epitaph" Emily, Jack, David and Victoria conspire to cover up the true events around Daniel's death to make sure that the authorities and more importantly Malcolm Black remain unaware that Kate Black was ever there, thus covering up her murder. Emily takes the blame for Daniel's death and claims he attacked her and she shot him in self defense. The next day the police interrogate her again about the events of theprevious night, during the interrogation Emily finds out that Daniel was going to be a father, as Margaux is pregnant. She appears devastated at this news and requests a break to calm down. A few days later Margaux confronts Emily about the fact that Emily has been cleared of murder and the case closed, Margaux makes it clear that she doesn't believe anything Emily says and that she believes she murdered Daniel in cold blood. Margaux vows to make it her life's journey to see Emily pay for what she's done and refuses to let Emily come to Daniel's funeral. Emily secretly comes to Daniel's funeral, but stays behind a tree. As Emily listens, she flashes back to her relationship with Daniel, and silently cries.
In "Madness" Emily calls David up to the manor to talk about Victoria. David tells her the plans to meet her atthe lighthouse later that night and stage her murder as a suicide. Emily talks him out of it and asks him tol eave The Hamptons with her and start a new life. Later that morning Emily meets up with Nolan at his beach club where he asks her to attend dinner with him, Louise and her brother Lyman,as he is concerned about Louise' family harming her. Later on after overhearing an argument between Louise and Lyman, Emily goes to Nolan and confronts him about Louise' criminal history,and expresses corncern for his saftey. Nolan convinces her to give Louise the benefit of the doubt and have dinner with the three of them to see if theres more to the story. Before dinner Emily talks with Louise and manages to get hold of one of her pills, suspicious about the appearnace of the pill, which louise believes to be xanax, she has a pharmacist test it. during dinner Louise has a violent outburst and hits Nolan, after which Lyman takes Louise away to calm her down. This seems to prove Emily's suspisions about the pill and informs Nolan and Louise that the pill is compounded with Larium which causes side-effects including paranoid delusions and violent outbursts. While speaking to Louise Emily comes across a photograph of herself with Victoria's handwriting on it saying "The answer is Emily Thorne". Louise says she found it in Nolan's house after Victoria asked Louise to get rid of it for her. Nolan and Emily realise its from Kate Black's folder of evidence and they realise that it was Victoria who sent Kate to Emily and ultimately caused Daniel's death. Emily hacks her fathers phone and texts Victoria to meet at the Lighthouse, where Emily confronts her and the two have an argument over whos fault Daniels death really is. The argument is cut short however when Malcolm Black, who appeared to have tracked the text from David's phone, overhears the argument and realises that Emily is really Amanda Clarke. Malcolm then captures and kidnaps Emily and Victoria and holds them hostage as ransom for his daughter Kate.
In "Abduction" Emily and Victoria wake up to find themselves locked up in a cage at a refuse depot by the water. almost immediately the two start arguing when they are again interrupted by Malcolm Black who is using them as ransom for the safe return of his daughter. While they wait for David, Jack and Ben to find them, the two continue to argue with Victoria refusing to help Emily with a plan to escape. they eventually unite in a plan that would lead to their rescue, by manipulating Malcolm into sending one of his henchmen out to find Jack.Malcolm believes Jack has information on his daughters whereabouts, but before the henchmen leaves to find him he gets in a struggle with Emily who unknown to anyone else had use the struggle as a distraction to draw her and Jack's childhood treasure hunt symbol on his back. After Jack fights off the henchmen and knocks him out he finds the symbol and realises that Emily drew it with coal, leading him and Ben into realising that they are being held at the refuse depot. Before Jack and Ben arrive, Malcolm returns having captured David and realising that his daughter is in fact dead. he begins to torture David and trys to force David kill Victoria and Emily. Before Malcolm can kill either of them, Jack and Ben arrive and a fight ensues ultimately leading to David shooting Malcolm to save Emily, and Malcolm falls into an incinerator, killing him.
In "Kindred", Emily hosted Nolan and Louise' wedding reception at her house and Nolan and Emily try and help Louise after her mother told her that she killed her father.
In "Bait", Emily and Ben's relationship begins to grow. Emily also deals with Margaux's constant attacks on her and Jack. Jack confesses his love for Emily which she rejects and cries as he leaves.
In "Retaliation",
In "Loss", Emily confronts Margaux and gives her proof that will expose her as Amanda Clarke. Emily wants to end the cycle of revenge. Margaux refuses, and walks into the path of an oncoming taxi. Margaux survives, and Emily is devastated. She returns to the Clark house and tells him she tried to end it, before breaking down in his arms.
In "Clarity", Emily feels guilt due to the loss of Margaux's baby. Emily decides that her new mission will be to clear Daniel's name allowing Margaux some liberation. Emily tries to get Jack on board with her plans but Jack's Mother Stevie is firmly against the course of action and accused Emily of being a troublemaker. Victoria confronts Emily at the hospital board meeting after the decision to name a wing in Daniel's honour is voted against by the chairman. Victoria accuses Emily of causing the deaths of Daniel and her unborn grandchild. This prompts Emily to take to the stand at the hospital charity gala, to retract the story about Daniel's death and admit to the world on live TV that she is in fact David Clarke's daughter Amanda.
In "Exposure", Emily begins to look forward to a life as Amanda Clarke. Nolan arrives at Grayson Manor and tells Amanda that Victoria (through Louise) was able to get her hands on a flash drive which contains evidence of Emily's revenge. Amanda and David confront one of Conrad's co-conspirators Senator Tom Kingsley and threaten him if he tries to bring them down. Amanda does a live TV interview and exposes Victoria's wrongdoings and suggests that Victoria is a murderer. After the TV interview Amanda arrives at the beach house and embraces David and feels happy that she can be Amanda again.
In "Burn",
In "Aftermath", Amanda is stunned to find Grayson manor has been destroyed, and a body burned beyond recognition is recovered from the wreckage. The body is identified as Victoria's. Later, Amanda meets with Treadwell. He demands that she clear him of Gordon Murphy's murder. Amanda recovers a file proof box that belonged to Conrad, and gives it to the police, claiming it has proof that Conrad murdered Gordon Murphy. Amanda later discovers a video from Victoria, taunting her about framing Amanda for her death the dame way Amanda planned to frame Victoria for hers. Emily then realizes that Mason was working with Victoria to set her up. The police come and arrest Amanda for Victoria's murder.
In "Plea",
In "Two Graves",
Amanda Clarke
There were a few characters that knew Amanda's true identity before she revealed to the whole world in Clarity, some being people she knew and her former allies. Through Seasons One to Two, several allies aided Emily in her quest to Revenge; none of whom the main characters knew whilst recurring arc characters soon knew the truth. Jack (excluding Aiden and Amanda), was the first major character to know the truth. Towards the end of Season 3, Victoria puzzled the pieces together and found the truth. Finally in Season 4, her identity is virtually known know by a majority of the main cast members, and later revealed fully by herself.
These are:
Personality
As a child, Amanda was a carefree and loving daughter to David. She was close friends with Jack Porter and Jack described her as being a "childhood crush". Until her father's arrest, Amanda had a very happy childhood, despite the fact that she didn't have a mother.
During Amanda's time in the juvenile facility, she grew into an aggressive teenager who often got into fights. She had a good relationship with the warden, who sympathized with her and helped her realize that she needed to stop getting into fights and instead focus on getting revenge on the people who were responsible for her being there in the first place. Amanda befriended Emily Thorne and eventually they swapped names and Amanda later told Nolan that Amanda Clarke no longer existed, although clearly she did still exist due to the existence of the real Emily Thorne.
Amanda is very beautiful and charming, being capable of using her beauty to get wherever she wanted to be. The only person who was immune to her charms is Victoria Grayson, who never entirely trusted her. However Amanda is also very manipulative and even had a slightly sadistic streak, enjoying watching her victims squirm. She is cold, calculating and highly intelligent. Nolan told her that she could be scary at times. Amanda is willing to take down anyone who got in her way, including Nolan Ross and Daniel Grayson. She is extremely dangerous when angered, partially due to her skill in martial arts and partially because she could hold grudges for a very long time. However Amanda has never actually killed anyone and even managed to stop herself from killing the man who murdered her father, although she was extremely tempted to finish him off.
As the series continued, Amanda occasionally showed a softer side, feeling hurt when Nolan told her that her father would be ashamed of her and apologizing to him later. Although she generally pushed other people away, rarely forming a close relationship with anyone, she is loyal to people she genuinely cared about, rescuing Nolan from the man who stabbed her father, and trying to keep her paternal half-sister, Charlotte out of her revenge schemes against the rest of the Grayson's.
It is interesting to note that Amanda's personality is very similar to Victoria's personality, showing that she is more like her enemy than she has ever realised. The only big difference in their personalities is that Amanda is loyal to her loved ones.
In "Secrecy", Jack said that even as a child, Amanda was secretive because she was afraid to let people in. Thus hinting that the sort of lying, mistrust and self-protective tendencies were always part of Amanda's personality, but after she lost her father and Jack, this was magnified because of her fear to get hurt. Jack uses the wishing upon a shooting star as young Amanda never told him what she wished for. To contrast and show her growth, Amanda tells Jack she wished "nothing would change". But as we know it did, so this may be another reason why she lacks hope and shut out her emotions, because she lost it all when she hoped it would stay the same. Even as a child Amanda was unusually bright and perceptive intriguing right away that Victoria was up to no good, though her father didn't believe her.
In season 3, Amanda's personality is increasingly becoming more open to particular people and, she listens to Nolan and Jack's opinions more.
In season 4, Amanda has lost any identity to who Amanda Clarke is, she is scared of being that girl again and is also "addicted" to revenge. She is becoming increasingly more erratic, since Aiden's death and David's return. She is no longer in control of her emotions, especially when David is involved. Takeda knew this would happen 10 years ago, and warned her against it. Now that her revenge mission is over, she has become less of a "machine" and more emotional. Her actions are become more dangerous and violent, shown when she tortured one of the men that came after David. Her fathers return has made her more desperate and protective.
Amanda has grown more hateful of Victoria this season, as she rejected to help her after she was electrocuted. This contrasts season 2, where Amanda stopped Aiden and her mother Kara, and tried to stop Jack from killing Victoria. She is lacks the fear of pain and death since she nearly died three times within 2 episodes. She is becoming more secretive again, as she is lying to Nolan and Jack. Since Aiden's death, she has shown no interest in her love interests; Jack, Ben or Daniel.
Amanda has explicitly said that she does not know how to live a normal life after 20 years of imprisonment or revenge missions. So she still continues some revenge moments in light of this. However, since her fathers return she no longer enacts revenge, instead she wants to protect her father David, and her half-sister Charlotte. She also seeks to be more truthful, though there have been moments where she has lied. Season 4 tis the season of her finding herself - Amanda, and where her father exists in her life.
Despite Amanda's sadistic and ruthless traits, she has a sense of justice, honor and good morals; as killing innocent people in her quest for revenge, is a line that she would never cross.
Although Amanda loves and cares about her family, she is not above being cold and cruel to them (albeit only towards Charlotte) when Charlotte accidentally kills her abductor and calls her half-sister to clean up her mess, when she tried to blame her half-sister for her problems/ruining her life, Amanda, finally having enough of Charlotte's attitude and done making excuses for her behavior, she coldly and cruelly called her out on her actions, Amanda even stated that the next time Charlotte screws up, she is not going to clean up her half-sister's mess again; this is because Charlotte is no longer a child and Amanda knows her half-sister never gonna change her ways if she keeps on getting away with her bad behavior.
Relationships
Romance
Daniel Grayson
Main Article: Amanda and Daniel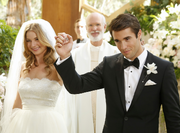 Amanda and Daniel are former husband and wife. They met for the first time during the Memorial Day Party when Emily dropped a glass on Daniel. They got engaged two times before getting married, but their marriage didn't last that much because Daniel discovered that Emily had been lying to him. After that they became enemies, trying to destroy eachother, until they make peace before Daniel's death.
Aiden Mathis
Main Article: Amanda and Aiden
Jack Porter
Main Article: Amanda and Jack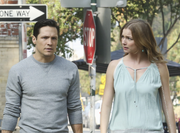 Amanda and Jack have a quite complicated relationship. They met as children and they developed a crush on each other, but Amanda disappeared and returned with a new identity and a mission that didn't include Jack. He confessed his feelings towards her but she refused him as she was dating Daniel. Then Jack married Amanda and after her death Emily revealed her true identity. Since then they have been good friends.
Ben Hunter
This article or section is a stub. You can help the Revenge ABC Wiki by expanding it.
Family
David Clarke
Main Article: Amanda and David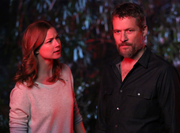 Amanda and David are father and daughter and were very close to each other. After Amanda's mother was confined at the Angel of Mercy Hospital when she was only five years old, David Clarke began raising his daughter Amanda alone, after telling her that she was dead. But shortly after they had moved to the Hamptons David was arrested for terrorism and was tought to be dead. But during the summer 2014 Amanda discovered that he is alive and started again with their relationship.
Charlotte Clarke
Main Article: Amanda and Charlotte
Friends
Nolan Ross
Main Article: Amanda and Nolan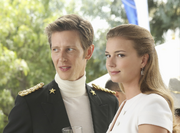 Amanda and Nolan are best friends and allies. They first met when Emily left juvie and he gave her the Infinity Box that her father gave to him. They met again when Emily returned to the Hamptons and since then, Nolan has been helping her in her mission to takedown the Graysons.
Emily Thorne
Main Article: Amanda and Emily
Emily and Amanda were good friends with a long history together, albeit both tend to argue often nowadays before her death. Sometimes, it may seem like Amanda Clarke was merely using Emily Thorne, which was pretty much her intention when she befriended her years ago, while Amanda seems to once have truly cared for Emily, until recent events at the Hamptons strained their relationship and trust. Their friendship still stands even after Emily's death in season 2.
Ashley Davenport
Main Article: Amanda and Ashley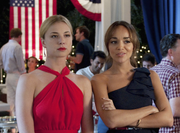 Amanda and Ashley used to be best friends before they came to the Hamptons. Although Amanda became her friend to gain access to the Graysons and the Hamptons circle; she truly considered Ashley to be her friend, until the latter betrayed her. Ashley might had considered Amanda as her friend but this changed when they both climbed through the Grayson Family as Amanda succeeded and Ashley didn't. After this their relationship as friends (secretly) ended, and their relationship as enemies (secretly) began when Ashley began dating Daniel.
In Season 3, when Amanda and Daniel came back together, Ashley threatened Amanda to expose her true feelings towards Jack to the Graysons, (there friendship officially ends, and they officially become enemies), however when Conrad's Huntington's disease was leaked to the press, Amanda successfully put the blame on Ashley, forcing her ex-best friend to go back to Croydon, as Amanda and Ashley do not part ways on good terms with each other.
Enemies
Victoria Grayson
Main Article: Amanda and Victoria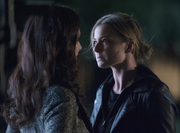 Amanda and Victoria hate each other for two very different reasons; Emily Thorne sees her as her father's lover who had betrayed him, while Victoria Grayson blames Emily for the destruction of her family, since she began date her son Daniel Grayson. Even that they've always keep the forms until the wedding of Emily and Daniel, since then they both have been after eachother which led Victoria discovering Emily's real identiy and being institutionalized by Emily.
Lydia Davis
Main Article: Amanda and Lydia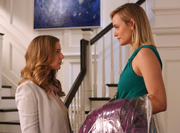 Amanda and Lydia became enemies from the day they met, Lydia helped frame David and Amanda turned Victoria against Lydia. Amanda managed to kick her out of the Hamptons but she returned asking for revenge twice. The second time she exposed her to Victoria which led to the shooting in Amanda's wedding.
Events That Has Attended
Season 1
Season 2
Season 3
Season 4
Memorable Quotes
The Graysons are, and always will be, the enemy.
Amanda Clarke no longer exists.
When everything you love has been stolen from you, sometimes all you have left is revenge.
[To Nolan] My father has not seen me in over 8 years. I have changed
I'd tell you how much time you had left but you stole my watch.
I came here for revenge. You offered to help me. If you can't stomach it anymore, how about you least spare me your passive-aggressive judgments?
Vodka tonic. Hold the tonic.
The better way to fight chaos, is with chaos.
[To Nolan] I googled friendship on the Interwebs, apparently when you have a fight with a friend you're supposed to apologize.
I will never forget. I will never forgive.
Let it play

Darkness scares us. We yearn for the comfort of light as it provides shape and form allowing us to recognize, to define what's before us. But what is it we're afraid of, really? Not the darkness itself, but the truth we know hides within.

Destiny. To believe that a life is meant for a single purpose, one must also believe in a common fate. Father to daughter, brother to sister, mother to child. Blood ties can be as unyielding as they are eternal. But it is our bonds of choice that truly light the road we travel. Love versus hatred. Loyalty against betrayal. A person's true destiny can only be revealed at the end of his journey, and the story I have to tell is far from over
.
Gallery
References