"
Another ex-Mrs. Grayson. I'd say welcome to the club, but I don't care much for the other member.
"
Stephanie "Stevie" Pruitt (formerly Stephanie Grayson) is Conrad's first ex-wife who he left to marry Victoria.
Biography
Pre-Series
Stevie was married to Conrad but had an affair with Carl Porter, resulting in the birth of Jack Porter. She kept the pregnancy hidden from Conrad during their marriage. Conrad later met Victoria, and Stevie left to go to rehab. 
She visited David Clarke in prison to help him but Conrad put her in a car with 0.14 and she got arrested for D.U.I.
Season 3
In "Hatred", Stevie returned to the Hamptons.
In "Payback", Stevie called Emily to talk about her divorce as she called last night and was the reason she returned to the Hamptons. But Emily told her that she was in love with Daniel. She received Conrad's visit asking for help but she rejected it. She went to the Stowaway and asked Jack for a cocktail that his father used to make. She finally helped Conrad and kicked out Victoria, claiming that the manor was hers, also kicking Conrad out too. In The Stowaway, she tells Jack that she is his mother.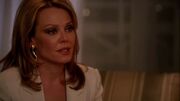 In "Struggle", Stevie continued to try to reconnect with Jack, but he rebuffed her efforts. She told him that she had problems with drinking and left to go to rehab. During the Hamptons Art Walk she saw that Victoria had hired a judge to set the Grayson Manor as a landmark to stop her plan to make it a halfway house.
Season 4
In "Loss", Stevie returns to the Hamptons at the request of Emily to defend Jack from drunk driving charges. She also sees David again and apologizes for failing to get him out of prison years ago. David laments how Emily doesn't need him, now that she is all grown up, but Stevie assures David that Emily will need him eventually.
In "Clarity", Stevie worries about how Emily's decision to reveal the true circumstances behind Daniel Grayson's death will impact Jack and tries to get David to talk her out of it. David refuses and feels that he doesn't need to parent Emily, but Stevie tells him to be her father and convince Emily to not put Jack's future at risk. In the end, Stevie can only look on in apprehension as Emily tells the truth about Daniel's death and reveals that she is Amanda Clarke.
In "Burn",
In "Aftermath",
In "Two Graves", Stevie attends Jack and Amanda's wedding months after the deaths of Victoria and David.
Appearances
Trivia
By the end of the series, Stevie is the only known person with the last name Grayson to survive.
Gallery
The gallery can be found here. Any future additions should be added there as well.
References