The Amanda
is a boat that is owned by
Jack Porter
. He named it after
Amanda Clarke (now Emily Thorne)
whom he had crush on when they were little.
Jack sold the Amanda to Nolan because his bar needed money to keep afloat.
Nolan
decided to give the ship back to Jack out of goodness in his heart.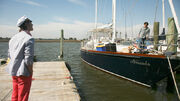 Jack used it to spread his father's ashes. In the opening of
Destiny
, the episode flashes forward three months and shows the Amanda sunk with a yet-unidentified body inside.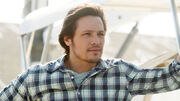 The Amanda sinks in
Sacrifice
, when
Nate Ryan
attempts to kill Jack and
Amanda
. Amanda and Nate die in the events of the sinking of the boat, Nate dying due to the boat sinking and Amanda dying from an explosion and Jack is placed in critical condition after being shot by Nate.
There are two boats doubling as the Amanda: one was a Hinckley-built boat and the other is a 43-foot Columbia sloop named Blue  Norther that sails regurlary in Santa Monia Bay.  She is moored in Marina Del Rey.